FRiENDSHiP.. :))
Friends
A friend is someone we turn to
when our spirits need a lift.
A friend is someone we treasure
for our friendship is a gift.
A friend is someone who fills our lives
with beauty, joy, and grace.
And makes the whole world we live in
a better and happier place.
-----
You are friendly, kind and caring
Sensitive, loyal and understanding
Humorous, fun, secure and true
Always there... yes that's you.
Special, accepting, exciting and wise
Truthful and helpful, with honest blue eyes
Confiding, forgiving, cheerful and bright
Yes that's you... not one bit of spite.
You're one of a kind, different from others
Generous, charming, but not one that smothers
Optimistic, thoughtful, happy and game
But not just another... in the long chain.
Appreciative, warm and precious like gold
Our friendship won't tarnish or ever grow old
You'll always be there, I know that is true
I'll always be here... always for you.
---
Standing by,
All the way.
Here to help you through your day.
Holding you up,
When you are weak,
Helping you find what it is you seek.
Catching your tears,
When you cry.
Pulling you through when the tide is high.
Just being there,
Through thick and thin,
All just to say, you are my friend.
----
The Miracle Of Friendship
There is a miracle called Friendship
that dwells within the heart
and you don't know how it happens
or when it even starts.
But the happiness it brings you
always gives a special lift
and you realize that Friendship
is God's most precious gift.
----
Friends will come and friends will go,
The seasons change and it will show,
I will age and so will you,
But our friendship stays, strong and true.
---
Friends
There's nothing as nice as someone who shares,
your laughter, your secrets, your wishes and cares,
someone who's there through your good times and tears,
who stays by your side as your friend through the years.
----
You remind me of a flower,
Pretty, inside and outside.
A reason why people smile everyday,
A gift to all.
You remind me of chocolate,
Luscious and sweet.
Someone people can turn to in crisis,
Loved by all.
You remind me of a teddy,
Cute and huggable.
Someone people feel comfortable with,
Special to all.
You remind me of a balloon,
Happy and bouncy.
Someone people can have fun with,
Enjoyed by all.
You remind me of a lot of things,
But nothing can compare to the real person,
A friend I can look up to,
Cherished by me.
---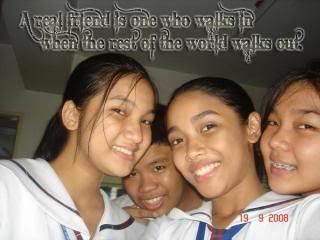 ----
so
LUNATIC
without u
o_0